April Newsletter

Quick quiz Each month I'll give you a new question.

Just email for the answer.

William Shatner was born on March 22 of which year?
Be confident in yourself

5 Dangerous Mistakes to Avoid When
Using Cleaning Products. If you're ready to swing into your 2021 spring clean, you may want to take note of these common and often dangerous mistakes that arise when using serious chemicals. After all, not all of us are accustomed to dealing with bleach, ammonia and other strong disinfectants on a regular basis.

Never mix bleach. You may be aware that mixing bleach with ammonia produces toxic chloramine gas. But it's also dangerous to combine bleach with vinegar or rubbing alcohol, ingredients found in a range of cleaning products. A good rule of thumb is to only dilute bleach with water.

Remember that chemical cleaners are powerful enough to destroy 99.9 percent of microorganisms, so it's a good idea to keep the room you're cleaning well ventilated so you don't inhale their fumes. Keep your cleaning routine fast and efficient.

Only use specific products for their intended purpose. If it's made to sanitize surfaces in your home, it stands to reason it isn't suitable for your hands or skin. Similarly, you should use gloves when handling these harsh chemicals.

Check if your cleaning product's label has disposal directions, and avoid flushing it down the toilet once done. This way, you avoid clogs and keep things eco-friendly. Check your local hazardous waste disposal facility's collection day.

Once you've finished your whirlwind spring clean, take the chance to rethink how you store your cleaning supplies. If you have children or pets, you may want to reconsider placing them under the sink and avoid decanting them into unmarked containers.
Always be looking forward
Defying Convention: The Story of Josephine BakerOn International Women's Day this March 8, we collectively honor the wonderful women in our lives as well as the fierce females who have shaped history. One such exemplary feminine figure is the multitalented Josephine Baker, the American-born French entertainer known for defying convention and leading a lavish lifestyle. But behind the glitz and glamour of her showbiz career lies the fascinating storied life of a woman truly ahead of her time.

Born in St. Louis in 1906, Baker overcame poverty, life on the streets and two early unsuitable marriages to become the "highest-paid girl in vaudeville." After an opportunity to tour Paris, she transformed herself from ingenue to all-singing, all-dancing diva.
However, it wasn't long before war blazed through Europe and Baker was recruited into the Deuxième Bureau, France's military intelligence agency. Her busy touring schedule provided the perfect cover for her wartime activities as a spy for the French Resistance, which included smuggling information in invisible ink on sheet music.

After the war, Baker returned home to the States to champion civil rights causes. During her tireless campaigning, she formed an adoptive family comprised of children of different ethnicities she dubbed the "Rainbow Tribe" and became the only official female speaker at the historic 1963 March on Washington.
Over a decade later, the formidable icon passed away after a rousing retrospective revue in Paris, fulfilling her own prophetic words: "I shall dance all my life. I would like to die, breathless and spent, at the end of a dance."
Quick Corned Beef Hash. Why not give a nod to St. Patrick's Day with this delicious and easy breakfast recipe? Enjoy with scrambled eggs or add a fried egg on top.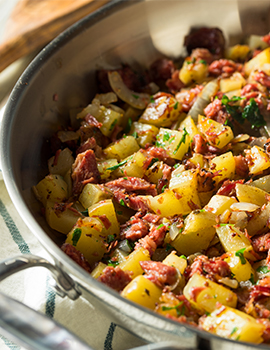 • 1/2 yellow onion, chopped
• 2 pounds russet potatoes, peeled and diced
• 4 tablespoons unsalted butter
• 1 teaspoon kosher salt
• 1/2 teaspoon dried thyme
• 1/2 teaspoon coarse ground pepper
• 2 cups cooked corned beef, shredded
• 2 tablespoons water
• parsley to garnish

Melt butter in a large iron skillet over medium heat.

Add onions, potatoes, thyme, salt and pepper and cook for 5–6 minutes until potatoes start to brown.

Add corned beef along with 2 tablespoons of water and mix well.

Cover and steam the meat for 1–2 minutes.

Serve with eggs and garnish with parsley if desired.
Simple and Inexpensive Ways to Refresh Room Decor. Winter hibernation gives way to the riot of color and life that is springtime, we naturally turn toward cleaning up and cleaning out. Following the new year's generally inward-looking resolutions, why not use your spring cleaning momentum to breathe new life into your surroundings? Here are five simple and budget-friendly ways to get the décor ball rolling.
Pep up with paint. A fresh coat of paint can go a long way in sprucing up your space. Perhaps there is an accent wall that could really use a pop of color, or maybe it is time to change the color scheme of a specific room. Either way, a can of paint, a roller and some old-fashioned elbow grease are all you need.

While you've got that paintbrush in your hand … Paint something that you don't like. That may sound a little odd, but if you have grown a little tired of an old dresser or dining table, you could paint it to give it a new lease on life. Check out YouTube for a smorgasbord of helpful tutorials.
Find your light. You would be surprised just how much the lighting in your home can boost or reduce your mood. Swap out old fixtures or forgo harsh overhead lighting in favor of a smattering of flattering lamps. You could pick up a few bargains online.

Cultivate an indoor jungle. Plants are a great way to add some life to your surroundings. Beyond their aesthetic value, they also reduce toxins in the air and improve air quality. Peace lilies, aloe vera, ivy and rubber plants are all great examples of air-purifying flora that purify the air.

Unleash your inner artist. Make your wall a canvas and display some eye-catching art. It doesn't need to break the bank. You could get painting yourself and create tailor-made pieces that fit in with your color scheme.
Live a life of purpose

Spring Clean Your Digital Life with These 5 StepsSpring is universally acknowledged as a time of renewal, with many making the most of the revitalizing seasonal current to clean up and declutter. But did you know that this spring cleaning energy can extend to your digital workspace too? Get rid of your often-forgotten cyberclutter with these five helpful steps.

Step 1: Review your online and social media accounts. Start by deleting any accounts you no longer use and remove any old information, such as saved credit cards or old documents.

Step 2: To reduce risk from malware and viruses, update the apps and operating systems on all Internet-connected devices. Delete any unused apps and any linked account information as you go.

Step 3: Digging deep into your phone and computer is next up. Go through the dreaded downloads folder, your desktop and your hard drive and get rid of any files you no longer need. What does remain should be organized into folders so it's easy to find.

Step 4: Get your logins locked down. Make sure you use passwords, passcodes and fingerprint or facial recognition software for all of your devices and enable authentication tools such as two-factor authentication, especially for your email and online banking. After you've done this, go through and update the passwords for online accounts and update your privacy settings to keep your cybersecurity in top shape.

Step 5: Back it up. Make a complete backup of important files. You could copy data to a secure cloud platform, another computer or an external hard drive. Just be sure you're able to restore your files from your chosen backup method, as a backup you can't use isn't very helpful indeed!
Use your time wisely